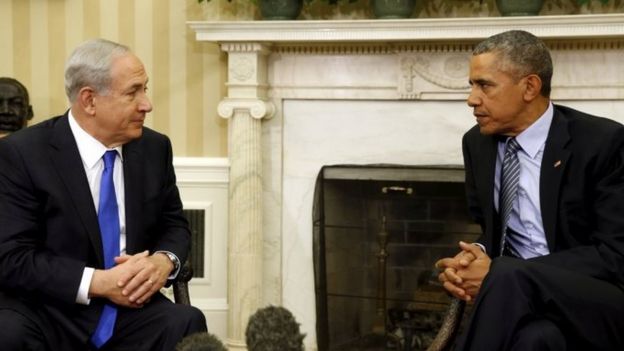 Israel settlements: Netanyahu rejects 'shameful' UN vote - BBC News
: "The resolution was passed after the US refused to veto it, breaking with long-standing American practice.
The Egyptian-drafted resolution had been withdrawn after Israel asked US President-elect Donald Trump to intervene, but it was proposed again by Malaysia, New Zealand, Senegal and Venezuela.
The resolution, approved by 14 votes to zero,
with only the US abstaining
, demands that Israel immediately "cease all settlement activities in the occupied Palestinian territory, including East Jerusalem". [East Jerusalem including the Temple Mount, which has no historical significance to Islam, the religion of death, destruction, and terror. Insane!]
Obama's parting shot at Netanyahu and Israel. Don't these foolish 'leaders' see that they are falling directly into the judgment of the only living God, the God of Israel, as amply described in the Bible? I suppose not because if they did, they might have the wisdom to let Israel retake her land. Instead they are choosing to take a stand against their Creator. Time to learn from history, folks.
Zechariah 12:
2 "Behold, I will make Jerusalem a cup of drunkenness to all the surrounding peoples, when they lay siege against Judah and Jerusalem. 3 And it shall happen in that day that

I will make Jerusalem a very heavy stone for all peoples; all who would heave it away will surely be cut in pieces, though all nations of the earth are gathered against it.
Trump tweet:
Donald J. Trump
As to the U.N., things will be different after Jan. 20th.
---
DEBKA

file
December 24, 2016, 11:43 AM (IDT)
The Prime Minister's Office in Jerusalem responded angrily to the UN Security Council resolution that censured Israel for building settlements, stating that Israel will not recognize Resolution 2334 or be bound by it. Israel's ambassadors were recalled from two of its sponsors, New Zealand and Senegal.
The PMO statement noted that while the Security Council does nothing to stop the slaughter of half a million people in Syria, it "metes out shameful treatment to the only democracy in the Middle East." Israel expects to "work with President elect Donald Trump and its friends in Congress to reverse the resolution."
Israel also announced the cancellation of the Senegalese foreign minister's visit to Israel in three weeks' time and the suspension of aid programs to that country.